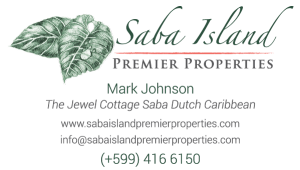 Saba Island Premier Properties
We love Saba and we want you to love living here too! Saba is a magical island; while possessed of modern amenities, this is one of the last places in the Caribbean that possess an Old World Caribbean charm and gentle pace of life. It is a fabulous place to live, full or part time. As native Sabans whose families have lived here for centuries, we can assure you we understand the Saban real estate market and have the expertise to assist you as you invest on island. Let us be your guides as you explore off shore living. It would be our pleasure to work with you.
We understand that when purchasing a home off shore, you want to work with a professional who possesses an intimate knowledge of the location you've fallen in love with and has the ability to help you envision the possibilities and the practicalities. Someone who can help you settle in and feel more like a local than just an occasional visitor or expat. This is also true for Saba, a unique place with centuries long history and a rare Old World Caribbean charm still deeply embedded in the fabric of the island.  As Saba is small and intimate, it is essential to have the right person to work with; someone who understand the island, the connections, the lifestyle, the properties and the law. On Saba, houses have stories to tell and the team at Saba Island Premier Properties knows them all. If you chose to work with SIPP, be assured you are working with knowledgeable Sabans whose family has lived and worked on Saba for many generations counted by centuries rather than decades. They know almost everyone who lives here. Because of their backgrounds and love of the island, they understand the island, what it is like to live on Saba and how things work. They are also practical, direct and know what can and cannot be done. They will take the time to learn what you are looking for while respecting your budget whether you are an entry point buyer or a luxury buyer. They can help you settle comfortably into your new Caribbean life on Saba. At SIPP, the creative individuals who make up the team understand what is necessary to successfully live and work abroad; they divide their time between Saba, the US, Europe and Asia while maintaining their strong roots in Saba. They possess well trained design skills that help you visualize transformations and renovations of existing structures into your dream as well the ability to help you see the potential in a plot of land. All of this is done with a very practical design eye.Saba is such a unique emerging real estate market. Working with the highly professional and personally charming Saba Island Premier Properties team assures that you will maximize your return on investment and have a fabulous time doing it! You can also be assured that your investment will be protected. Saba has a very secure economy and stable government along with a direct relationship with the Netherlands.
Saba Island Premier Properties | The Jewel Cottage, Windwardside Village, Saba
Phone: (599) 416-6150 | Visit our Website