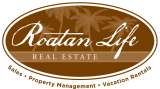 Roatan Life Real Estate was founded on the principles of enthusiasm and integrity.
Hard work and market knowledge. Passion and commitment. A focus on and a desire to provide the best possible real estate services to our valued clients.Our company has steadily grown with the addition of new sales associates, the numbers of our listings, and the volume of our sales.
Those founding principles still guide our company on a daily basis. All of which combine to strengthen our position as the most respected real estate company on Roatan. Roatan Life Real Estate is here to serve you with over 30 years of combined real estate experience and over 30 years of combined island living. And in Roatan real estate, it's nice to know someone who has been around the block. Spend some time with us. We think you will find it will be time well spent
Sorry, no properties found - try expanding your search, or view all.
Roatan Life Real Estate | Coral Stone Business Center, Sandy Bay Roatan, Honduras
Bay Islands | Tel: 011 (504) 9959-8033  | Fax: (602) 532-7549 | Visit our Website