At Home in the U.S. Virgin Islands – St. Thomas, St. Croix, St. John   The US Virgin Islands are famous for white sand beaches and spectacular snorkling and diving conditions in places like Magens Bay and Trunk Bay, as well as their strategic harbors like Charlotte Amalie and Christiansted. Most of these islands are the result of past volcanic activity, and are hilly and mountainous. The US Virgin Islands are a group of islands in the Caribbean and an insular area of the United States of America.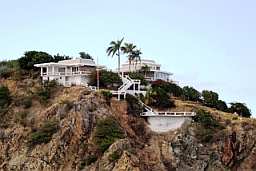 U.S. Virgin Islands Real Estate, Economy and Infrastructure Tourism is the mainstay of the economy with an estimated two million visitors to the islands each year and it accounts for 80% of the GDP and is the largest employer. The manufacturing sector has petroleum refining, rum distilling, electronics, textile, pharmaceutical, and watch assembly. Agriculture is small scale and most food is imported. A new, still small, international business and financial services sector show potential for growth.   The government is in the process of improving fiscal discipline in order to support construction and U.S. Virgin Island real estate projects and expansion of tourist facilities. It is making attempts to reduce crime, and protect the environment.   There are many major international banks operating on USVI that extend finances for Caribbean real estate investors. They usually require buyers to pay for the title search, insurance, and property appraisal, the written surveyor's certificate, structural and pest inspections and fees associated with the mortgage loan. People buying second homes can also qualify for as much as an 80% loan. Property taxes are 1.25% / $1000.00 of 60% of the assessed value. Hazard Insurance including windstorm and earthquake coverage, costs 2% – 3% of the replacement value.   While building a home, Caribbean real estate investors should confer with a realtor, architect or builder who can facilitate the government process of getting plans and permits approved. Construction costs vary, starting at around $200 per square foot for average construction, to $300 or more per square foot for quality construction. U.S. Virgin Island real estate building permits can take 3 to 4 months to be approved. Most resort condominium complexes are on the beach and offer amenities like swimming pools, tennis courts and restaurants. Studio condominiums start at around $100,000 while one-bedroom units can be priced from $195,000 to $375,000. Three and four bedroom condominiums are also available and prices range from $325,000 to $695,000 depending on location, view and amenities.   Due to its close proximity to the United States, advanced infrastructure and tropical island weather, the U.S. Virgin islands are the perfect place to visit or simply settle down.
U.S. Virgin Islands Activities, Dining and Entertainment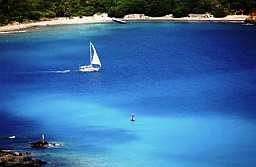 The beaches are one of the main reasons for people and Caribbean real estate investors to visit the U.S. Virgin Islands. The soft white sands create gorgeous blue-and-white contrasts with the deep blue of the sea. And there are more secluded spots if you want to avoid the crowded areas. All the beaches are open to the public and most are perfect for swimming and snorkeling.
Both power and sailing vessels are available for crewed or bare-boat charters. Visitors can explore this Caribbean Island at their own pace, visiting the islands they choose, or take one of the planned tours. The islands host boat races through the year, including the International Rolex Cup Regatta, in St. Thomas, the Mumm's Cup Regatta, in St. Croix, and The Virgin Islands America's Cup Challenge. The Coral World Marine Park and Observatory is one the most popular tourist attractions on St. Thomas, with its three-story observation tower 100 feet offshore in a living coral reef.
Sport fishing is another major attraction and the catch can include White Marlin, Wahoo, Dolphin, Allison Tuna, and Kingfish. Although there are no courses on St. John, St. Croix and St. Thomas have international standard golf courses that rival the top courses in the world. St. John's natural topography makes it the perfect place to go hiking. The National Park has more than 20 miles of hiking trails. Horseback riding is offered on St. Croix and St. Thomas by resort facilities or independent operators. Guided kayak tours are available through the Marine Sanctuary and Mangrove Lagoon on St Thomas. With a hilly terrain and fabulous scenery, the USVI is an ideal place for mountain bikers and bicycle tours of St. Croix's rain forest begin out of Frederiksted, and bikes are also available for rental on St. Thomas and St. John. Parasailing is a great way to view the USVI and is available at most waterfront hotels. Tennis enthusiasts can find courts at major resorts on and two free public courts at Sub Base, on St. Thomas. Windsurfing gear is also available at major hotels and several beaches.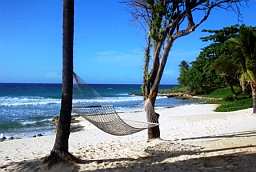 The USVI is a paradise for Duty-Free shopping. St. Croix, St. John and St. Thomas offer visitors some of the best shopping in the world. There are no customs duties on cameras, watches, perfume, liquor, china, jewelry, leather goods and so on and no sales or luxury taxes, either. U.S. visitors are allowed twice the quota of duty free shopping than any other Caribbean island. In addition, shoppers are allowed to mail home one gift per day worth $100 or less, to friends or family. Local arts and crafts are found in stores in Cruz Bay, including jewelry, home accessories and pottery, apparel and artwork.
The unique cuisine of the USVI originated from a mix of other West Indian cuisine, Puerto Rican, African, and European influences, combined with local spices, fruits, vegetables, and meats. Restaurants here offer a diverse mix of local as well as international cuisine.
Fusion cuisine, combining the latest trends from around the world has become popular at island eateries. International cuisine like Chinese, French, Mexican, Pacific Rim and Italian are also available, as well as American favorites. Competition among island hotels has created a range of hotel dining rooms, which lure chefs from around the world to please the palates of their guests. Locally grown ingredients are combined with international styles by these chefs often with exquisite results. West-Indian specialties are prepared at "local" restaurants and include Fungi, a cornmeal-based side dish, and killaloo soup as well as sweet-potato pudding, fried johnnycake, plantains and old wife fish.
 U.S. Virgin Islands Climate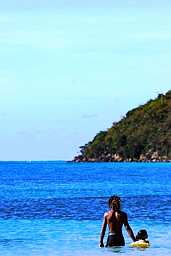 The USVI is warm and humid round the year. The climate is sub-tropical with average winter temperatures in the range of 72-82°F to average summer temperatures of 79-88°F. The tradewinds blow from the east, keeping the heat bearable. Sunny skies are the norm in summer. Rainfall can be quite erratic, and averages about 40 inches a year.
U.S. Virgin Islands Location and Travel
The US Virgin islands are geographically a part of the Virgin Islands archipelago located in the Leeward Islands of the Lesser Antilles. They are the four main Caribbean islands of St. Thomas, St. John, St. Croix, and Water Island, and a lot of smaller islands. St. Thomas is located at 18 degrees north latitude and 65 degrees west longitude and is 1,600 miles south, southeast of New York City, and 1,100 miles east, southeast of Miami. It is about 40 miles east of the Caribbean Island of Puerto Rico. The islands of St. Thomas and St. John are situated between the Atlantic Ocean and the Caribbean Sea while St. Croix, 40 miles south of St. Thomas, is surrounded entirely by the Caribbean Sea. The Virgin Islands lie on the very boundary of two tectonic plates, the North American plate and the Caribbean Plate; earthquakes and tsunamis are a constant risk.
There are two airports, the Cyril E. King Airport, on St Thomas, and the Henry E. Rohlsen International Airport on St Croix. The islands have daily direct flights from the U.S. in places like New York, Baltimore, Newark, Atlanta, Fort Lauderdale, and Miami, and there are connecting flights from all major Caribbean Island hubs. There are also connections from Europe, Canada, South America, and the Far East. Commuter flights fly between San Juan and St. Croix and St. Thomas.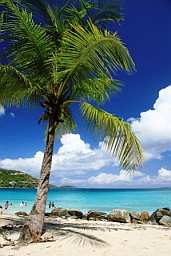 The USVI offer a convenient bus service, as well as readily available taxis on St. Croix, St. Thomas, and St. John. Taxi rates are based on destination and not mileage. Cars and 4-wheel drives can be rented at airports and hotels. It is the only part of the United States where driving is on the left. Travel between the islands is easy and a ferry from St. Thomas provides access to St John and Water Island. The ferry ride to Water Island is about 10 minutes, and to St. Thomas, 20 minutes. Small plane or helicopter flights between St. Croix and St. Thomas take 25 minutes, and the fast ferry takes about 75 minutes.
The official currency of the USVI is the US Dollar. Most establishments will accept either credit cards or USD travelers' checks.
Removing sea fans and live coral during dives is against the law in the USVI. In the more secluded beaches, be careful about sea urchins. If touched, the barbed sting can be very painful, although it is not dangerous. Quick application of vinegar to the skin surface will dissolve the barbs.
It is not a good ides to leave valuables unattended. Carry a plastic wrist case or a zip lock bag that can be tucked into your bathing suit easily for money, watch and car keys. When you are snorkeling, be sure to wear a shirt. This protects your back from too much exposure to the sun.
U.S. Virgin Islands Culture and History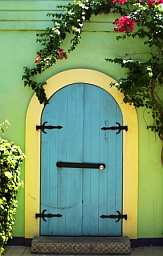 The original inhabitants of the Virgin Islands were the Ciboney, the Caribs, and the Arawaks. The islands were discovered and named by Christopher Columbus in 1493 on his second voyage. Over a period of the next three centuries, these Caribbean islands changed hands many times and were held in turn by Britain, Spain, the Netherlands, the Knights of Malta, France, and Denmark.
The Danish West India Company settled on the Caribbean island of Saint Thomas in 1672 and on Saint John in 1694. They bought the island of Saint Croix in 1733 from France. In 1754, the islands became royal Danish colonies. Slave-grown sugarcane drove the economy of these Caribbean islands during the 18th and early 19th centuries, until slavery was abolished in 1848. For the rest of the time under Danish rule, the unit was not economically viable and transfers from the Danish state budget were made available to run the islands. An attempt in the early 20th century to sell to the United States failed and reforms were attempted to improve the economy, without great success.
During the First World War, the United States feared that Germany could seize the islands for use as a base for its U-boats. So they approached Denmark with an offer to buy the islands. The sale was finalized for a price of $25 million. At the time, the Danish probably considered the cost of continued possession and a consensus in favor of the sale emerged. A referendum in late 1916 confirmed the decision and the deal was ratified and finalized in 1917, with an exchange of treaty ratification. The territory was renamed the Virgin Islands of the United States. U.S. citizenship for inhabitants was granted in 1927.
Flag                                                Coat of Arms
Motto: "United in Pride and Hope"
Anthem: "Virgin Islands March"
Capital: Charlotte Amalie
Official Languages: English
Government:
Organized, Unincorporated Territory
Revised Organic Act – 22 July 1954
Area
346.36 km² (202nd)
133.73 sq mi
Water 1.0%
Population
2005 Estimate: 112,000 (191st)
Density
354 /km² (34th)
916.9 /sq mi
Currency
U.S. dollar (USD)
Time Zone
Q (UTC-4)
Internet TLD .vi
Calling Code
+1 (340)