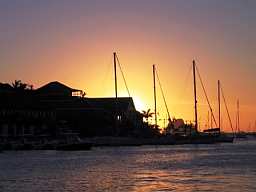 At Home In Saint Barthélemy / St Barth / St Barts   Saint Barthélemy (also known as St Barth in French and St Barts in English), is a tropical paradise possessing a coastline dotted with over 20 beaches on an island that is just six miles long. This Caribbean Island has served as a get-a-way location for many people of renown for a long time and is famous for its beautiful beaches, gourmet cuisine and designer shopping. St. Barts has only 25 hotels – and most of these have no more than 10 or 15 rooms. Even the largest hotel has a mere 70 rooms. The result of a volcanic explosion, the jewel of the Caribbean boasts of 22 pristine beaches, innumerable luxurious high-end boutiques, traditional Creole houses and well planned, lush tropical gardens perfect for a dream vacation or luxury Caribbean real estate investment.
Saint Barthelemy Real Estate, Economy and Infrastructure
The economy is based almost entirely on high-end tourism and is distinctly different from other Caribbean islands. Saint Barthelemy is a dry, barren island, not suited for agriculture or industry. The population, having faced centuries of poverty in isolation, is now witnessing a boom in its quality of life. The regular visitors are wealthy, mostly of North American origin and favor Saint Barthelemy for its beauty, serenity and calm.   Tourism has eased the local debts and unemployment levels are extremely low as well. The cost of living, however, is extremely high, as most basic products have to be imported. The deficiency of fresh water and soaring construction and Caribbean real estate prices add up to make the cost of living on Saint Barthelemy around 25% higher than places like Guadalupe. The economic and social situation is stable and Saint Barthelemy has high-quality infrastructure.   There are no restrictions on non-resident ownership of property. If you can afford to buy St. Barthelemy real estate, there is no better island to choose. The main problem is that the cost is a barrier to anyone but the most wealthy Caribbean real estate investors. Timeshares often start at $300,000 – single family homes and villas can run well into the millions of dollars.   St. Barts is well known and loved for its exclusivity, beauty and serenity. If you want a luxurious, peaceful Caribbean Island vacation away from the crowds, St. Barts is the place to be!
Saint Barthelemy Activities, Dining and Entertainment
There are 20 inviting beaches on this small Caribbean Island. On the south side of Saint Barthelemy are the Saline and Gouvenor beaches – they are absolutely pristine and have no sign of any kind of development on them. On the western edge is Colombier beach, reachable only by a boat or a hike, while the beaches of St. Jean, Flammands and Grand-Cul-de-Sac are popular and attractive with hotels on the beach. Shell Beach is popular with kids because of its mild surf and an abundance of tide pools.
Saint Barthelemy also offers ample scope for outdoor activities like volleyball, which is a very popular sport on the island. Competitions on the beach and on hardtop courts are held all year. Tennis is also popular and there are many courts available, with most hotels having their own courts. Hiking is a good way to see the island and for the water buffs there is scuba diving. Saint Barthelemy's coral reefs and spectacular marine life make it a magical experience. Fishing is a common pastime for locals as well as vacationers – and the chefs of most hotels even prepare the fresh catch for the next meal. Surfing is an ideal option, with perfect sunlit waves and equipment easily available for rent. Alternatively, you might charter a boat and crew and take a sightseeing tour or a romantic sunset trip around the island.
The carnival in Saint Barthelemy begins on the Saturday before Ash Wednesday, but people actually begin to celebrate the day after New Year's Day. During this time, there are rehearsals on the street and beautiful floats are made for the parades. At the official start of Samedi Gras, people attend parties and dance through the night. On Monday, everyone dresses in red and on Ash Wednesday everyone wears black and white to mark the end of the Carnival. Festivities continue through the day and parties until midnight and some even party until daybreak.
There are an amazing number of dining options on the Caribbean Island of Saint Barthelemy. A variety of restaurants provide a range of cuisine from classical and nouvelle French cuisine to spicier Créole creations and local specialties. Fine dining is one of the major attractions of Saint Barthelemy. Renowned chefs from Europe and the U.S. and young chefs trained in the best restaurants in France combine local ingredients with French secrets, to make the island a gourmet paradise. Most restaurants are small, offering special food and ambience. Beach cafés offer lobster and grilled steak, seafood and Créole cuisine, while other hotels offer quality French cuisine.
As for nightlife, there are a few small discos on Saint Barthelemy, while some the local bars have live bands. However, Saint Barthelemy is not a hopping party place and is quiet after dark. The focus is on dining, with dinner and conversation lingering into the night. Some hotels provide dinner shows and piano bars, but there are no casinos
Saint Barthelemy Climate  
Saint Barthelemy has a typical dry tropical climate with average temperature in the range of 72? to 86?F. A common misconception about the West Indies is that it must get much hotter in summer than during the rest of the year. The average monthly temperatures, however, remain stable, varying by not more than 5º F year round. This stability is generated by the northeast tradewinds, which bring in a refreshing breeze throughout the year, preventing temperatures from becoming unbearable. The months from December to May are considered the dry season, while June to November have lots of humidity. However, rain showers can occur at any time during year. Rainstorms generally pass quickly and travelers will only find more rain and much cooler temperatures in the rain forests and at higher elevations. Hurricane season is from June to November, although the most likely time is September.
Saint Barthelemy Location and Travel
Saint Barthelemy is located approximately 150 miles due east of Puerto Rico, near the Caribbean islands of Saba, Saint Martin and Anguilla. St. Barthelemy is commonly known as St. Barts or St. Barth and is the smallest of the string of islands known as the French West Indies.   Saint Barthelemy has one small airport served by small regional and commercial aircraft and charter companies. Most visiting aircraft generally carry less than twenty passengers. Small planes, like the Twin Otter are a common sight at the Saint Barthelemy airport, as well as the rest of the northern West Indies. The short airstrip is located at the base of a steep hill and ends on the beach. The nearest commercial jet airport is at Saint Martin. There are charters to Saint Barthelemy from San Juan available with the Trade-wind Aviation Company and St. Barths Commuter offers one-way and roundtrip travel between St. Maarten's airport and Saint Barthelemy.   Ferries to and from Saint Martin are the only real alternative, but the crossing from St. Maarten to St. Barths can be quite rough. The best way to arrive, if you do not want to take the ferry is by private charter boats or yachts.   Summer is a good time to visit because lodging rates are much lower. Most peak holiday season reservations need to be made many months in advance. The Caribbean Island of St. Barth is quite informal. Casual sports attire is perfect during the day and jeans, shorts, polos and tees are a good idea, with sandals, sneakers and boat shoes. Swimwear is not considered proper town attire for the evenings. Women need to dress up and men need to sport ties and jackets at formal socials.   Topless swimming and sun bathing is generally acceptable at both hotel pools and beaches. Nude sunbathing is not officially allowed, but is common at certain beaches. Always ask permission before taking someone's photograph. A 15% service fee is usually included in the restaurant bills and additional tips are discretionary. The local currency is the Euro, but U.S. dollars and traveler's checks, as well as major credit cards are all widely accepted.   One important thing to remember is that although making a circle with the thumb and index finger means OK in the U.S., in France it means 'worthless', and is therefore an insult.
Saint Barthelemy Culture and History
The Caribbean Island of Saint Barthelemy was under French occupation from 1648 to 1784, when it was sold to Sweden. It was returned to France in 1877 as a result of a plebiscite. Administratively, it was a French commune and a part of Guadeloupe, which in turn is an overseas région and Département of France. By extension, both Guadeloupe and Saint Barthelemy were part of the European Union. In 2003, however, the population voted to secede from Guadeloupe to create Saint Barthelemy, a separate overseas collectivity of France. The French Parliament passed the bill granting Collectivity status to Saint Barthélemy on February 7, 2007 and the status took effect on February 22, 2007.
The Caribbean Island is a fantastic mixture of European cultures, influenced by many European nations. St. Barts is, in fact, the only Caribbean Island to have a Swedish heritage. Its capital is Gustavia, named after King Gustaf of Sweden. It was first overrun by the Spanish, who being single mindedly interested in gold and silver, found very little on this Caribbean island to be worth their time. The Swedes took over; finally the French retained possession of Saint Barthelemy. In spite of having returned St. Barthelemy to France in 1878, the Swedes have kept their free port and tax-advantage status. Today, the Caribbean Island of St. Barts attracts the richest and most famous people in the world, with its exclusive resorts and vacation villas. However, the little island is also one of the most expensive places in the world to live in.