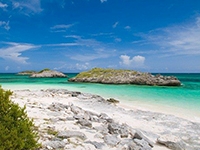 Three Mary Cays Subdivision
$35,000 – $99,000 USD
Three Mary Cays is a well known scenic site on the north shore of North Caicos, home to three small offshore cays providing terrific snorkeling amongst schools of multi-coloured fish. It is an extraordinary location, with beaches stretching for miles in both directions. This subdivision has been well planned to allow all lots easy access to the beach with ten pathways from the beach road onto the shore.
This subdivision offers the opportunity to purchase one acre of property at several price levels – from $35,000 for a pondside lot just 5 minutes walk from the spectacular beach to a second tier lot at $99,000.  Click here for a brochure.   Click here for more pictures.
Features and Details
Region - Country:

Caribbean

Island:

Turks and Caicos

Locale:

North Caicos

Community:

Three Mary Cays

Postal or Zip Code:

TKCA 1ZZ

Listing:

For Sale

Property:

Land

Lot Size:

Lot Size Varies

Price:

35,000 to 99,000

Agency Name::

Forbes Realty TCI

Agent Name::

Ernest Forbes