"GRAND CARIBE BELVOIR" is the spectacular new beachfront development by the same team that brought you the prestigious Grand Caribe Suites and Residences! With that comes an exciting new community of individual condominiums carefully placed on the beautiful landscaped property with the same expertise that made Grand Caribe the #1 Travelers Choice by Trip Advisor.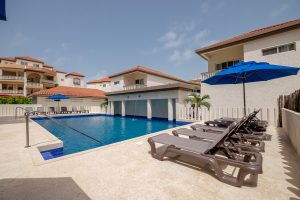 As an owner at Grand Caribe Belvoir, you become part of an exclusive and highly contented family. Stay there full or part time, place your unit in the rental pool full or part time and make very useful and worthwhile income, or keep it for your private use, it's your option!
Everything at Grand Caribe Belvoir is geared to the benefit of the individual homeowners.
Unit BV 2-4 is an oceanfront unit situated on the second floor with absolutely breathtaking views of the Caribbean Sea and second largest Barrier Reef in the World. Offering a spacious 244 square feet private veranda, a bright living/ kitchen and dining area. Bedrooms and bathrooms are to the rear of the unit to allow the living area more width and better views. Tons of light enters this amazing unit through big glass patio doors. All glass is tempered storm resistant. You won't be able to resist this exquisite home. Not a thing has been forgotten in the planning, building and furnishing of this beautiful two bedroom two and a half bath, 2,074 sq. ft. condominium. This unit is tastefully furnished, including top of the line appliances large and small, electronics including flat panel TV's, artwork and all linens, drapes, towels, cutlery, crockery, nothing has been forgotten and this unit is ready to move in or rent out.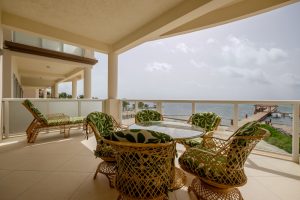 Owners and guests at Grand Caribe Belvoir now have access to a custom-built fitness center/spa, a 90 seat full service rooftop restaurant and bar and a convenient store onsite and 6 swimming pools. Coming soon to Grand Caribe Belvoir and its sister resorts, an onsite 24 hour medical center for the convenience of home owners and guests.
Grand Caribe Belvoir is Under the Grand Caribe umbrella and all Grand Caribe amenities are available to Grand Caribe Belvoir owners. See a Virtual Video Below of Belvoir Unit 2-4!
Useful Information:
• Enclosed elevator access
• Large Private Pool
• Backup Generator
• Independent Backup Water
• Private Pier
• Seawall for Erosion and Property Protection
• PGT Wind guard Impact Windows and Doors
• 5 Story Buildings
• Modular Bedrooms (can be rented independently with separate entrances if desired)
• Impact Rated Glass Rails in Front
• All Concrete Construction• Under 2 miles from San Pedro Town.
• Access to 6 swimming pools.
• Access to 2 hot tubs.
• A 90 seat, full service, rooftop restaurant/bar.
• Workout center.
• Rental Program available.
• Gorgeous Buena Vista area
• Easy paved road or water access to town.
• A total of 2,074 Square Feet in Size (244 Sq. Ft. Balcony included)
• Monthly HOA: US$327.75 – include cable TV, internet service, once a week housekeeping ( consumables not included ), basic in-house phone service, garbage removal, 24 hr. security, simple maintenance, etc.
• Annual Property Taxes: US$312.50
• Annual Insurance: US$2,488.80
• Pet Friendly Development (Some Restrictions Apply!)
• Each unit comes with full maintenance, includes basic phone service, security, grounds and pool maintenance, exterior building maintenance, Internet, Cable TV and more.
a custom-built fitness center/spa.
• The resort boasts a multi-level, state of the art clinic with doctors 24/7 (for Grand Caribe resident) and a helo-pad for emergency life flights (if necessary) to Merida, Mexico. Grand Caribe Owners each receive the first $1000 of services free (annually), as well as a 30% discount on services and products, after the first $1000.
Features
Seawall
Swimming Pool
Title
Utilities
Veranda
Property Map
Features and Details
Region - Country:

Central America

Island:

Ambergris Caye

Island Type:

Coastal Island

Community:

Ambergris Cay

Address:

Ambergris Cay, Belize

Listing:

For Sale

Property:

Condo

Bedrooms:

2

Bathrooms:

2.5

Furnished:

Yes

Price:

SOLD

Currency:

USD

Price Details:

Negotiable

Location:

Beachfront, Oceanfront

Owner Listing:

FSBO - For Sale by Owner

List Order:

6917