Bottle Creek parcel
Large 1.6 acres, road to shore – PRICE REDUCED $282,000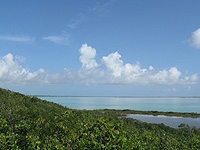 This is a spectacular location with long views from east to west over the creek to the East Bay Islands Reserve.
Neighbours nearby, excellent rental potential, on paved road, services to site.
Click here for more information.
Features and Details
Region - Country:

Caribbean

Island:

Turks and Caicos

Locale:

Middle Caicos

Island Type:

Ocean Island

Community:

East Bay Islands Reserve

Listing:

For Sale

Property:

Land

Lot Size:

1.6 acres

Price:

282,000

Agency Name::

Forbes Realty TCI

Agent Name::

Ernest Forbes