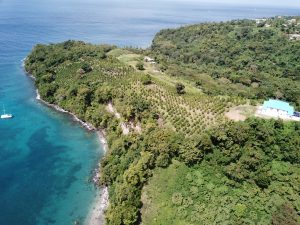 This is probably one of the most impressive agricultural developments on Island!!! The estate comprises 10 acres of fertile agriculture land.
Among the varied fruit trees is a flourishing SOURSOP orchard of about 2,000 trees. A commercial building, contemporary in construction, lends support to the thriving agricultural development.
The building consists of two offices, one bedroom, three full baths, additional restrooms (two toilets for men and two for women), a cold storage room, a kitchen and some empty floor space.
All amenities already laid on. – Safe and tranquil environment.
Good road system – Distance to St. George / Intern. Airport approx. 40 minutes. – Sea View
Features and Details
Region - Country:

Caribbean

Island Type:

Ocean Island

Community:

St George's

Address:

Grenada, Black Bay

Listing:

For Sale

Property:

Land

Class:

Development

Lot Size:

10 Acres

Price:

1,300,000

Currency:

USD

Location:

Ocean view, Water view, Oceanfront

Agency Name::

FSBO

Agent Name::

Alberto

Telephone:

(956) 618-2239

List Order:

6923