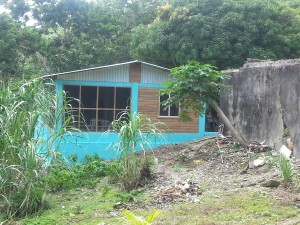 The property is 1/3 acre with ocean view  and about 100 yards off the beach.
It has a 1,200 sq ft house for a caretaker that is livable yet 70 % complete.
The original plan was to build several cottages around one new main house.  It has electric, water, septic tank, and a fresh water stream that flows year round, through the property.
The property has 3 large mango trees and existing 30′ x 30′ foundation that's 12′ high into hillside, for main house.
As the present owner I can build any type of construction for the new owner should you now want to be involved with building yourselves. I am knowledgeable about the logistics of building in the area and how to get things done having traveled here since 1975.
For questions on the property, please contact me and I would be glad to assist you in answering your questions.

Features and Details
Region - Country:

Caribbean

Island:

Guanaja

Address:

Sandy Bay, Guanaja, Honduras

Listing:

For Sale

Property:

Land

Class:

Residential

Lot Size:

.33 acres + / -

Price:

99,900

Currency:

USD

Location:

Water view

Telephone:

352-427-1814

Mobile:

352-624-2994

Owner Listing:

FSBO - For Sale by Owner

List Order:

4634