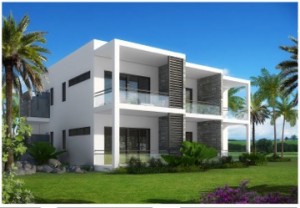 Mirableu Residences in Nevis, Vacation Condo or Citizenship by Investment
 
MIRABLEU features 168 cliff-side, one bedroom residences encompassing 27 park-like acres.
The development is characterized by unfettered panoramic Atlantic Ocean views and a dramatic 100-foot overlook to the beach.
Contemporary design by award-winning Caribbean architect Ian Edwards sets the tone for open concept living with artful, au courant interiors. Each residence includes large bedrooms, sitting rooms and bath, and a combo bar and kitchenette. Spacious covered verandas welcome in colorful ocean sunrises and cooling sea breezes.
Upscale resort amenities include swimming pools, tennis courts and nature trails. Beach, spa, restaurants and lounges are all within walking distance.
Nevis is the small, distinctive island off the southern tip of St. Kitts and known for its low-key friendly charm, privacy and unpopulated beaches. English is spoken on Nevis, a former British Colony and home to 11,000 people.
Priced at US$435,000 including furnishings.
For further information or a site visit, contact Alison Philip.

Features and Details
Region - Country:

Caribbean

Island:

St Kitts and Nevis

Address:

Zion, Whitehall, Saint Kitts and Nevis

Listing:

For Sale

Property:

Condo

Ownership:

Condo

Bedrooms:

1

Price:

435,000

Currency:

USD

Location:

Water view

Agency Name::

Allure Caribbean Real Estate

Agent Name::

Alison Philip

Telephone:

1-869-662-6777

List Order:

4513