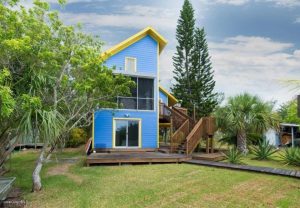 This is a Move-in-Ready House for SALE by Owner! Famous Home on Grant Farm Island with water view and private beach.
There are only 40 people live on the island. No cars, no streetlights, the safest place on earth, kids running all year around fishing…
It is located on an enchantingly natural Grant Farm Island, or, as it's known by the local's, "VIP Island" for Vacation Island Paradise, that you can escape to by boat only!
Grant, Florida, VIP Island is minutes from Melbourne, and only an hour and a half drive from Orlando. Perfect spot for fishing, or a quick boat ride (only 5 miles) down to Sebastian Inlet for the East Coast's world renown surfing.
Go in for the season, share a love of nature and an outdoor boating lifestyle, it is just close enough to the shore to be convenient and far enough to have your own piece of tropical paradise!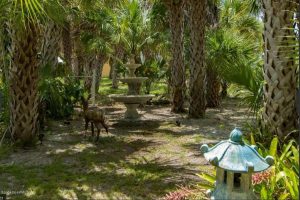 This home is known as the famous spiritual getaway of one of the foremost philosopher and major innovators of our time in the area of Sound Healing, Psychology and Natural Medicine. Luxurious without pretense it holds a peaceful, serene energy. Completely furnished with casual elegance style it feels psychologically, spiritually, and physically safe, feels like Your home!
Perfect for new boaters or people returning to the boating lifestyle, as well as active boaters, who appreciates escaping to exotic island living, and the serenity of the house on the water..
Primary Features:
• Master Bedroom Suite with Full Bath, Steam Shower & His/Her Walk-in Closets
• Spacious Guest Bedroom on the ground floor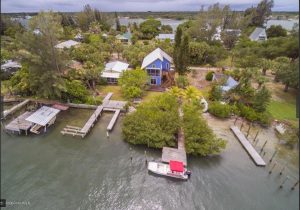 • Renovated 2 Bathrooms
• Finished 1,500 sq feet building
• Additional 600 sq feet of decks, docks, walkways and fishing dock on Indian River.
• Washer and Dryer and Central Vacuum system
• Year built 2001
Location – Location- Location: Located in the Indian River 5 miles north of the Sebastian Inlet,  world renown surfing spot. 5 minutes across to the mainland.
Over 600 sq feet of decks, walkways, and docks, including fishing dock on Indian River. Storage room complete with basic tools. Private mainland dock and parking also available.
Amazing Bonuses all included in the price:
• An attached Canal Lot with a deep water dock, sea wall, and electric boat lift.
• Ownership share in a mainland parking and dock cooperative
• 16 foot Jon Boat with 25hp four stroke Mercury engine in excellent condition
• 3 kayacks
• Laser Sailboat
• Outside deck furniture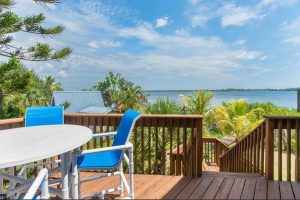 ..make yourself a fresh juice and enjoy it on a upper level cozy terrace to take advantage of the clear views and breath in fresh breeze from the water…
Meditate in a Living room with breathtaking 180 degrees views of Indian River. Automatic shutters opens at the touch of a button, illuminating the main living area accented by elevated wood ceilings giving you a plenty of light and generous space to move about!
Drift off to sleep each night with the tranquil sounds of nature in a Master Bedroom Suite on the upper level, featured with spacious His/Her Walk-in Closets…
..and get up with the sun to enjoy a Steam Shower or a Softspa Hot Tub…
Plenty of space to Entertain your Guests, they can stay in one of two rooms on the ground level. Half bath and outdoor shower are also on this level, that actually is perfect for mindful shower experience: notice the sound of the water, the birds singing, the warmth of the sun on your skin temperature, the flowers and air scents around you..
You would love to wake up each morning to an awe-inspiring sunrises in this charming 2-story house.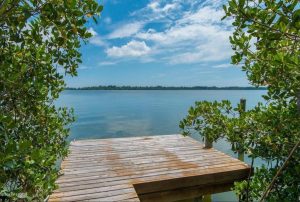 The house is very well maintained with love and care. The kitchen has new appliances, large dining area with wrap around counter top and plenty of dinnerware to entertain with.
Since we are surrounded by water, you'll be able to enjoy it fully with 16 foot Jon Boat, 3 kayacks, Laser Sailboat and plenty of other water gadgets.. so don't you want to head on to your own private beach now? Yes!
Stop reading and contact us now to get more information on exact address and price.
This property is only available to the buyer who acts NOW!
Features and Details
Region - Country:

USA

Island Type:

Coastal Island

Community:

Grant-Valkaria, FL

Address:

Grant Farm Island,

Postal or Zip Code:

32949

Listing:

For Sale

Property:

House-Villa

Ownership:

Freehold

Class:

Residential

Bedrooms:

2

Bathrooms:

2

Furnished:

Yes

Living Area:

50' X 125'

Lot Size:

50' X 131'

Age:

10 to 20 Years

Price:

399,000

Currency:

USD

Price Details:

Negotiable

Location:

Water view

Contact:

thea@biosonics.com

List Order:

6364