Located on the idyllic Punta Pozuelo peninsula in Guayama, PR, this exceptional oceanfront family vacation compound provides a unique setting able to accommodate 20 guests, in two separate homes.
Amenities include fully air conditioned interior space, lighted swimming pool, ocean swimming, full size lighted basketball court, cable and satellite TV and multiple spacious lounging areas. Pick lemons for your morning tea from your own tree. Walk to your yacht moored in the lagoon across the street and dock or hoist it at the full service marina about a mile down the road when you leave.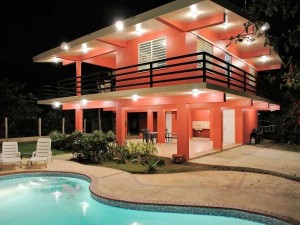 With your own equipment, water sports such as kayaking, wind and kite surfing, snorkeling, water skiing and jet skiing are within walking distance. Some rental equipment is also available at the boat ramp across the street. Enjoy local delicacies at nearby restaurants. All of your favorite stores, a movie theater and a Chi Chi Rodriguez designed golf course are minutes away in Guayama.
A major shopping plaza, movie theaters, auto racing, casino, night life, gourmet restaurants in Ponce provide a variety of activities to suit every taste.
The cultural, entertainment and dining attractions of San Juan are only an hour away. And if you just want to kick back and relax, just climb into your favorite lounge chair on the wrap around deck to watch the pelicans and manatees go by.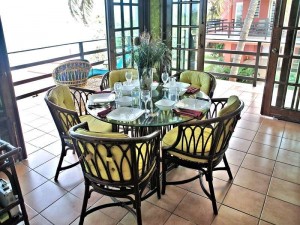 Punta Pozeulo is surrounded by beautiful scenery where laid back friendly locals take it real slow.
If generating a revenue stream is part of your strategy, this property is an ideal vacation rental opportunity.
The property is zoned for commercial tourism and there is sufficient space for a third building on the basketball court.
Upkeep, servicing and vacation rental marketing agents are readily available.
---
Terracotta House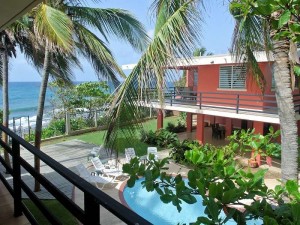 3 Bedrooms and 3 Bathrooms. (2 Up and 1 dn)
Air Conditioning can be found throughout the property.
The kitchen is equipped wiGas Range
Electric Service, 60c, 400Amp, 230V
Poured Reinforced Concrete Const.
Louvered Security Windows
Ceramic Tile Floors
Ground Level Outside Kitchenette
Year Built 2003
1350 Sq. Ft.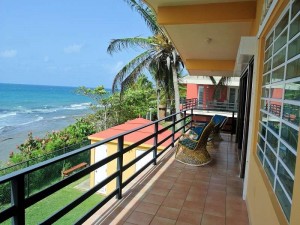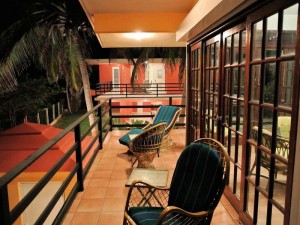 ---
Citron House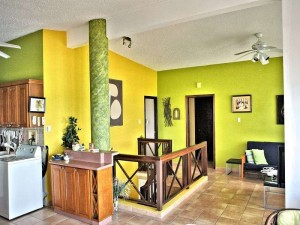 Bathrooms – 4 (2 up, 2 dn)
Air Conditioning – All
Electric Range
Electric Service, 60c, 400Amp, 230V
Poured Reinforced Concrete Const.
Electric Rollup Storm Doors
Louvered Security Windows
Ceramic Tile Floors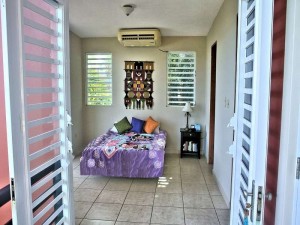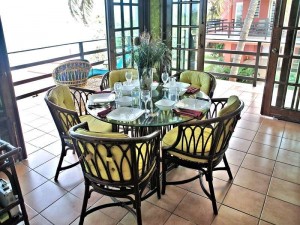 ---
Additional Information
Lot size 2800 Sq. M. 3/4 Acre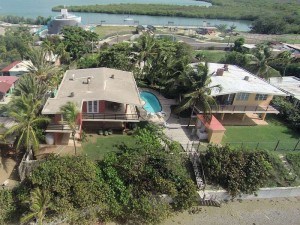 Ocean Frontage 150 Ft.
Google Loc. 17dg 56′ 11.98″N, 66dg 10′ 57.46″W
In Ground Swimming Pool
Full Size Lighted Basketball Court
Motorized Entrance Gate
Municipal Water
Sprinkler System
Reinforced Concrete Sea wall
Retractable Beach Staircase
Outdoor Shower
---
View our Aerial Flyby of the Property
Features and Details
Region - Country:

USA

Island:

Puerto Rico

Community:

Punta Pozuelo

Address:

PR-7710, Guayama, Guayama 00784, Puerto Rico

City/Town:

Guayama

Postal or Zip Code:

00704

Listing:

For Sale

Property:

House-Villa

Bedrooms:

6

Bathrooms:

7

Floors:

2

Furnished:

Yes

Living Area:

2,550 sq. ft.

Total Area:

6,000 sq. ft. +/-

Lot Size:

28,000 sq. ft.

Age:

10 to 20 Years

Price:

975,000

Currency:

USD

Price Details:

Reduced Price

Location:

Beachfront

Telephone:

212-255-6080

Mobile:

917-439-8629

Owner Listing:

FSBO - For Sale by Owner

List Order:

4269