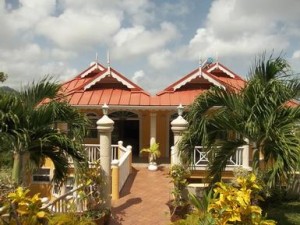 Marina Haven Villas is as the name suggests – a haven away from the hustle and bustle and a scenic view of the Marina: There are 4 – 2 bedroom apartments fully furnished in a very secluded area, surrounded by the beautiful landscaping full of colourful plants, mature trees and a shimmering pool with a BBQ area just waiting for that pool party to begin.
The uniqueness is that each unit has its own name; on the lower deck are the Pirates Nest and Deck Lodge the design being very Caribbean in style, with pastel colours throughout, high ceilings, pale colours on the walls giving depth to the rooms.
Each bedroom is a Master suite with a four poster bed, its own ensuite perfectly decorated in a sand stone tile and private balcony for that early morning coffee or late champagne toast.
The decor for the living area is light rustic wicker furniture, ceiling fans and the accessories bring a natural chic to this space; security bars on all the windows, there are 2 roman columns between the living and kitchen area, suggesting a divider but yet giving a very open design.
The Kitchen has granite counter tops and all modern appliances: the layout of the kitchen allows one to be able to be in seeing view of company while preparing meals or drinks.
The Upper decks are the Coral Cove and Anchorage Inn which are on the very high end scale for that exec who is looking for the ultimate in living.
The kitchen has the view which just gets the juices going to cook, ultimately on granite counters and all this happens without being on the sidelines as with most designs, the cook will take pleasure with this arrangement.
The bedrooms have solid wood four poster beds all draped adding to the luxury of this suite, a flat screen TV for relaxation: ensuite and private balcony like the lower deck.
Features and Details
MLS ID:

BON027

Region - Country:

Caribbean

Island:

St Lucia

Community:

Bonne Terre

Listing:

For Sale

Property:

House-Villa

Bedrooms:

8

Bathrooms:

8

Lot Size:

17,000

Price:

1,200,000

Currency:

USD

Location:

Overland view

Agency Name::

St Lucia Homes

List Order:

3488