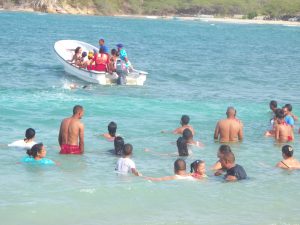 PROPERTY DESCRIPTION AND POTENTIAL
This 1 acre (3,773 M2) beachside lot has great potential. It is an excellent investment for a 3 or more star hotel. It is also an excellent property for a big family, looking to  develop it into a private summer residential project, right in front of the sea, with the potential to construct summer homes for family members. There is space for at least 5 summer homes. We even have a project designed for this purpose. Ask as us about it. The property can also be used by an investor to construct smaller bungalows for rental. We are sure that there are investors that can even come up with more fun-tastic possibilities.
The Buen Hombre Beach, (one without waves), also has great potential for investors wishing to construct bungalows on the water and renting them out to tourists. Whatever investment is made in the Playa of Buen Hombre, the pioneers shall have the best returns for their investment and shall be instrumental in creating value for any project they decide to develop.


Select image to view more clearly
There is talk of uniting the coast of Puerto Plata with the Coast of Montecristi. When that comes into fruition, we are talking of a new road passing just behind the Beach of Buen Hombre. Don't wait for that to happen. Be a few steps ahead and invest now!

Just think of those other areas that started as virgin lands that have been developed and now can only be acquired at prohibitive costs. Why wait? Act now before it is too late so you do not later regret  not being a bold and wise investor.
Tourist Attractions: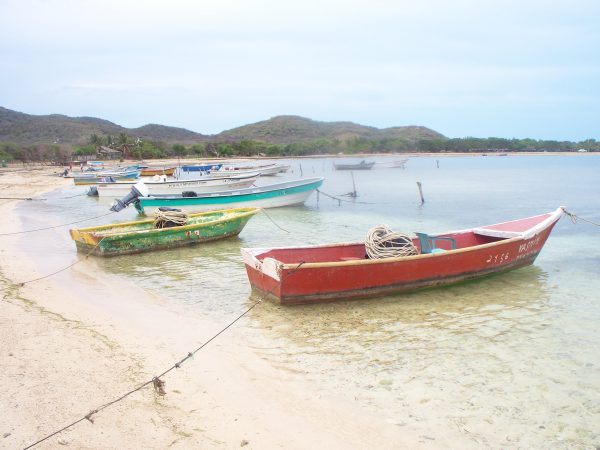 a) Boat tour from the beach of Buen Hombre to the small island of Cayo Arena, with more beaches and arrecifes, stopping for a walk on the mangroves and bathing at a natural pool. See Tour to Cayo Arena from Buen Hombre, in YouTube.
b) Boat tour to La Piedra and Morro of Montecristi.
c) Classes at the Sky Surfing School in the Buen Hombre Beach.
d) A boat trip around the surrounding area of the Beach of Buen Hombre.
DESCRIPCION Y POTENCIAL DE LA PROPIEDAD Y SU ENTORNO
Este terreno de 6 tareas y de primera línea a la playa tiene gran potencial para su desarrollo. Es una inversión excelente para la construcción de un hotel de 3 o más estrellas. También es una propiedad adecuada para una familia grande que desee desarrollar un proyecto de casas de verano para cada uno de los hijos. Tiene espacio para por lo menos 5 casas de verano, dependiendo del metraje cuadrado de cada una de las construcciones. Podemos ponerles en contacto con los arquitectos que ya han diseñado un proyecto de viviendas para dicho terreno. La propiedad también puede ser utilizada para la construcción de un número de cabañas para ser rentadas. Es seguro que aparecerán otros inversionistas con excelentes conocimientos como para crear innovadores usos turísticos al terreno y a su entorno.
La playa de Buen hombre no tiene oleaje y es muy apropiada para la construcción de cabañas sobre el agua, que pueden ser rentadas a los turistas. Cualquiera que sea la inversión o el proyecto, los que inviertan primero serán los que más provecho le sacarán a esta área virgen. No solamente les sacarán grandes beneficios sino que también estarán creando valor para sus inmuebles.
Se está hablando de unir la costa de Puerto Plata con la costa de Montecristi por vía de una carretera turística y la Playa de Buen Hombre está en el mismo trayecto de dicha carretera. No espere que eso se haga realidad. Sea parte de la historia de dicha región. Sea inversionista audaz y atrevido! No espere.
Piense en esas áreas del país que una vez se encontraron virgen como hoy se encuentra Buen Hombre. Ahora, invertir en esas áreas es prohibitivo debido al gran aumento en los precios de los terrenos. Actúe ya y no se lamente después.
Atracciones Turísticas:
1) Paseo desde la Playa de Buen Hombre a Cayo Arena, con parada y caminata en los Manglares de Montecristi y baño en una piscina natural. Tiempo de duración del viaje, aproximadamente 25 minutos, sin contar la duración EN las dos paradas.
2) Paseo a La Piedra y al Morro de Montecristi. Y
3) Clases en la Escuela de Sky Surfing en la misma Playa de Buen Hombre.
4) Recorrido en bote del área alrededor de la Playa de Buen Hombre.
View Informatoin Below as a PDF /
Ver información a continuación como PDF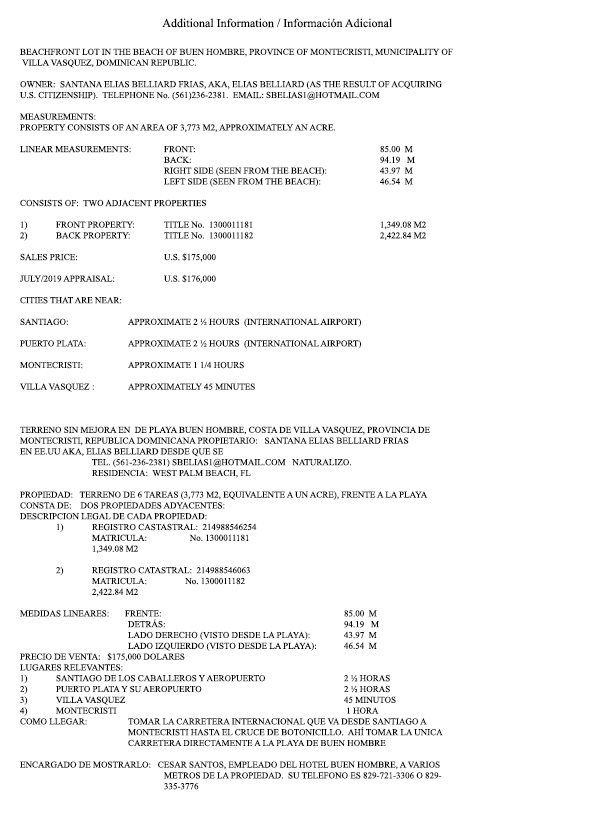 Features and Details
Region - Country:

Caribbean

Island:

Dominican Republic

Island Type:

Ocean Island

Community:

Buen Hombre

Address:

Buen Hombre Dominican Republic

City/Town:

Buen Hombre Beach

Listing:

For Sale

Property:

Land

Lot Size:

1 acre +/- or 3,773 M2 +/-

Price:

SOLD

Currency:

USD

Location:

Beachfront, Waterfront

Owner Listing:

FSBO - For Sale by Owner